In this podcast I am talking to a film maker from New Zealand. I really enjoyed my chat with David and I learned a few things along the way. He is has made horror films such as Death Warmed Up and worked with some big names from the Film industry as you will find out in the interview.
Presently he is taking trips around the world to visit film festivals to promote his movies. recently he was in Brazil His current project is a documentary which is family inspired and a follow up to one he did a while back. We hear about his influences from the film industry and talk about how he sees the business evolving. In this digital internet twitter age
He talks about 'Transfigured Nights' he has had aired on NZ TV which was filmed via the internet via web cams and men wearing masks. Interesting and a bit kinky.
David has a passion for film making and currently has a writing / film project in progress.
We chat about screen writing and story boarding and some of the nitty gritty parts of making a movie. I think you will enjoy hearing what David and I talk about in the interview.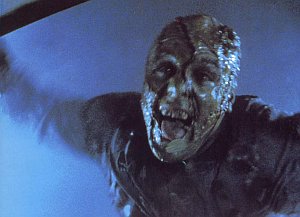 A still from 'Death warmed up'
News Section
Come to "Filmmaker's Networking Free Mixer" Thursday, October 8 from 7:30 pm to 11:00 pm. Join us after the Meeting http://bit.ly/LwinK – Rain Dance
Follow Wolfgang @eumagine Connecting filmmakers, screenwriters & broadcasters http://www.eumagine.eu
@NoRestrictions: HD VIDEO: ONE HOUR FANTASY GIRL (2009) Preview http://www.dailymotion.com/video/x90u4o
David Baker the Indie movie maker says that MissionX is now available for Pre order
Transfigured Nights is now available for international distribution on
Podcast: |